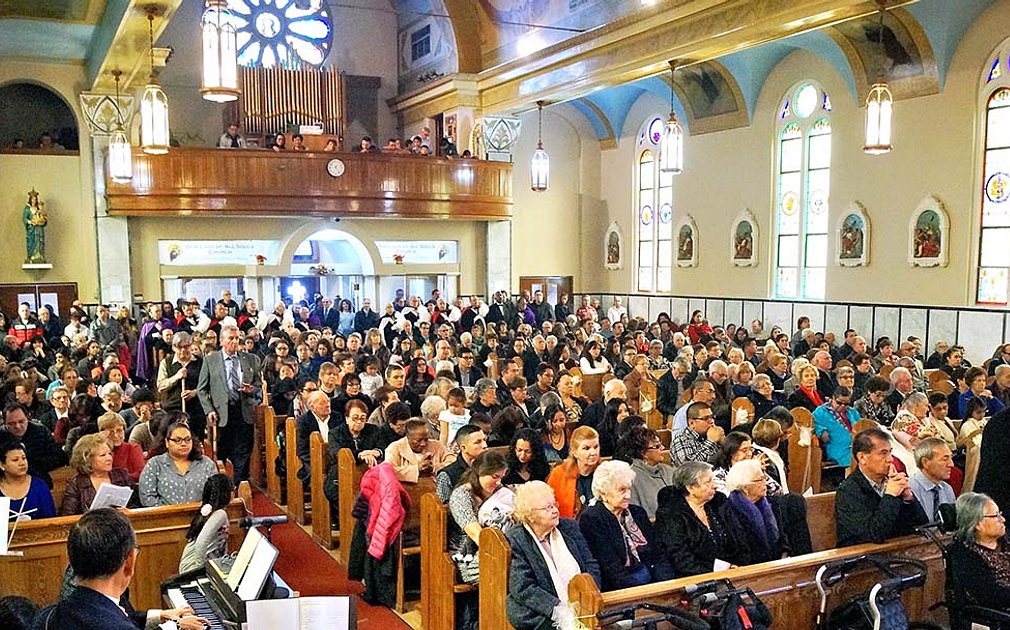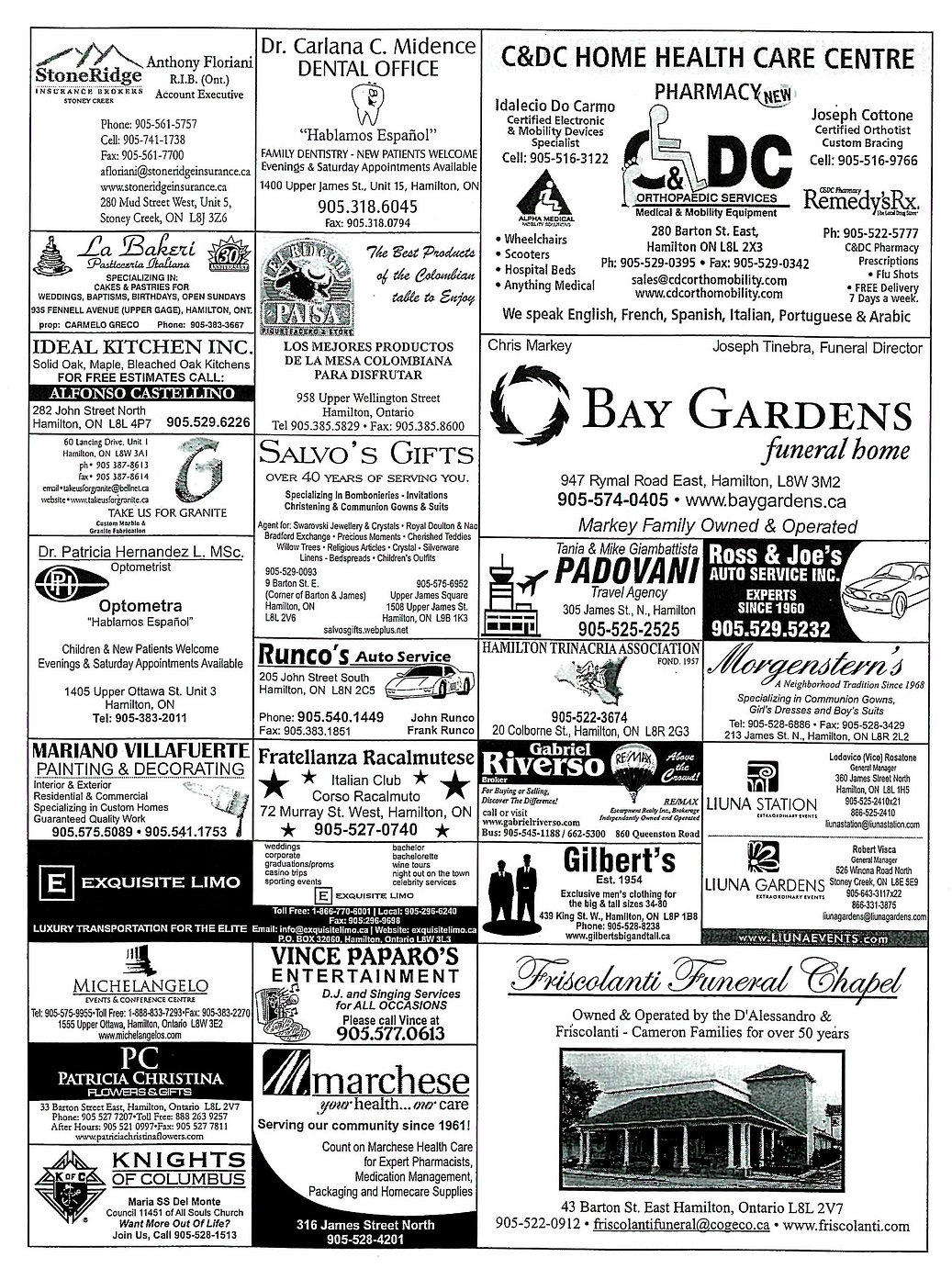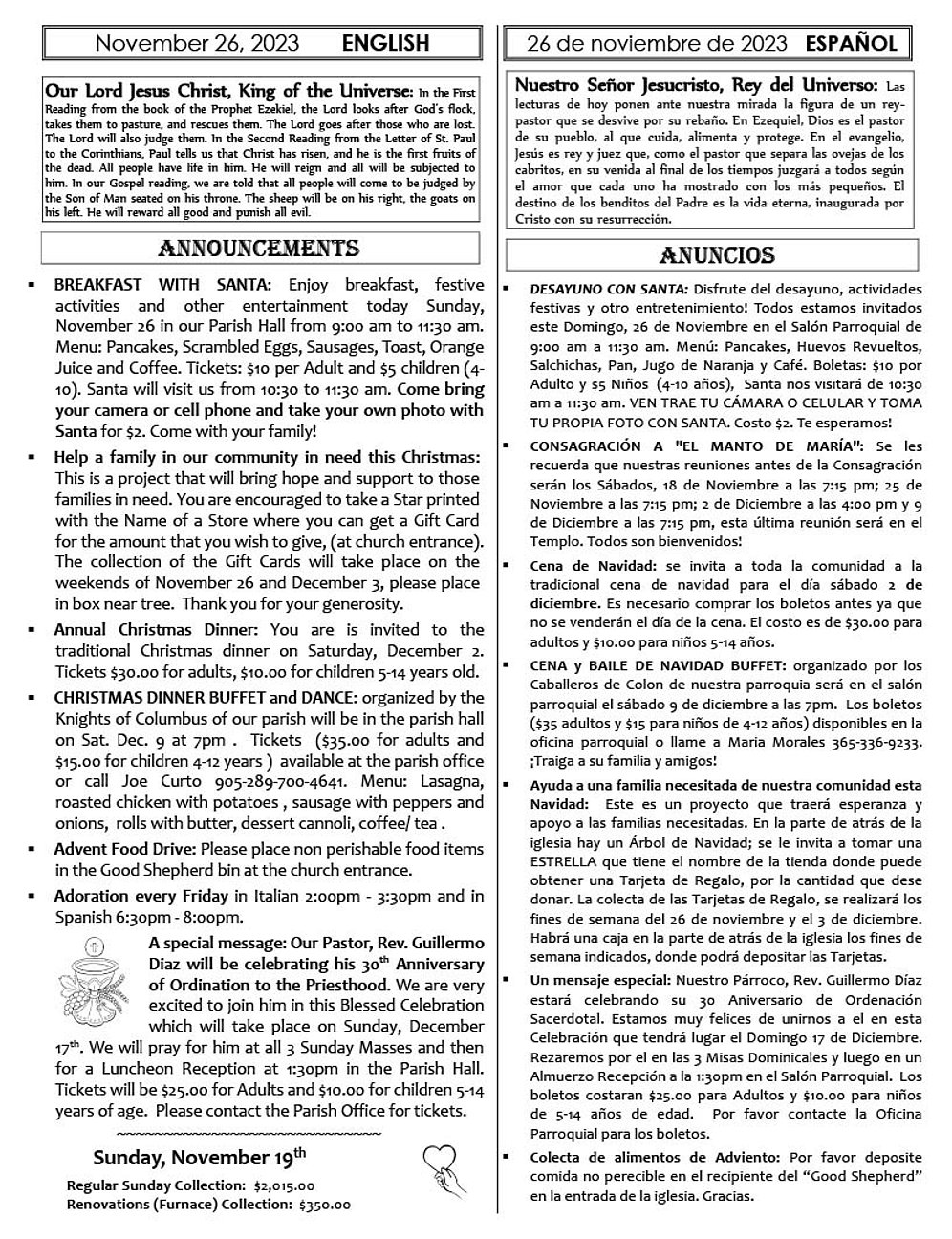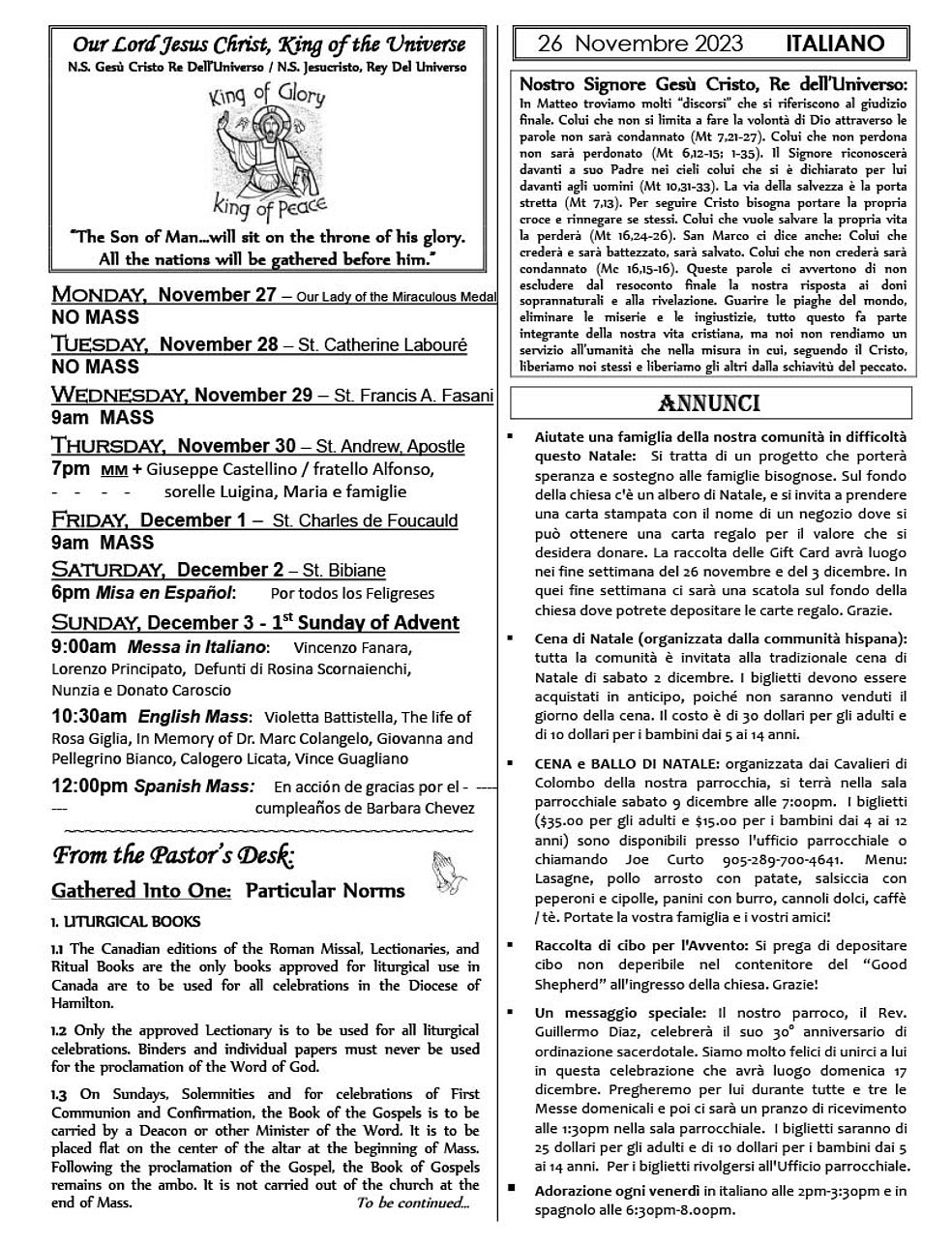 21 Barton Street West, Hamilton, OntarioL8L 1A2 CANADA
(905) 528-1513 allsoulshamilton@hamiltondiocese.com
Chiesa Nostra Signora di Tutte le Anime
Parroquia de Nuestra Señora de Todas las Almas
Our Lady of All Souls Roman Catholic Church
BOLETIN SEMANAL PARROQUIA ALL SOULS-

BOLLETTINO SETTIMANALE CHIESA ALL SOULS
ALL SOULS PARISH WEEKLY BULLETIN
GRAZIE AI NOSTRI SPONSOR - GRACIAS A NUESTROS PATROCINADORES - THANKS TO OUR SPONSORS
CONFESSIONS – CONFESSIONI - CONFESIONES
Saturdays - Sabato - Sábados:
4:30 p.m. or by appointment
4:30 p.m. o per appuntamento
4:30 p.m. o con cita previa
BAPTISM - BATTESIMO - BAUTISMOS
English: Fourth Sunday of the Month
Call the office one month before for preparation
Español: Cuarto domingo del mes
Inscribirse un mes antes para la preparación
MARRIAGE - MATRIMONIOS: Please contact us one year in advance to set your date.
Marriage preparation course is required.
Favor reservar la fecha un año antes. Pasar por la oficina para las informaciones requeridas.
PASTORAL CARE OF THE SICK: Our Ministers bring Holy Communion to the sick monthly.
• For Confession and Anointing: Call the office.
• Per Confessione e Unzione chiamare in ufficio.
• Para la Confesión y la Unción: llamar a la oficina.
ACTIVIDADES PASTORALES
• Primera Comunión: Para más información, llame a la oficina
• Estudio Bíblico: Sábados 4:30 p.m.
• Grupo de Oración "Virgen Peregrina": por ZOOM
• Legión de María: Miércoles 5:30 p.m. por ZOOM
OTROS GRUPOS:
•Ministros de la Comunión,
•Catequistas, •Visita a los Enfermos, •Parejas, •Acólitos,
•Diferentes Coros, •Liturgia (lectores, ofrenda), •Virgen de Guadalupe, •Hermandad San Oscar Romero, •Grupo Social, •Grupo de Adoración al Santísimo Sacramento, •Cenáculo de Oración.
Masses - Messe - Misas
SATURDAY: 6 p.m. en Español
SUNDAY:
9:00 a.m. in Italiano
10:30 a.m. in English
12:00 p.m. en Español
Weekday Mass
Monday: NO MASS
Tuesday and Thursday: 7 p.m.
Wednesday and Friday: 9 a.m.
•

Office Hours

•

Orario di Uffi

cio

•

Horas de Oficina
OPEN: Monday, Tuesday, Thursday and Friday
10:00 a.m. - 4:30 p.m.
CLOSED: Wednesday, Saturday & Sunday